Taking care of your lawn properly is a year-round commitment. Each season has a specific need in order to make sure your lawn looks its best come summer. One of the most important, yet often overlooked, requirements of a fantastic looking lawn is aeration. A properly aerated lawn is the secret behind some of the best-looking and healthiest lawns you see.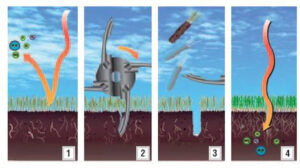 What are the benefits of aerating your lawn?
A properly aerated lawn looks great, feels great, and will remain healthy season after season. When you use an aerator on your grass, you allow it to properly receive the care it needs – like water, nutrients and fertilizer. Aeration literally gives your lawn a chance to breathe and stretch its roots, promoting better growth along with a healthier look. If you live in a hot or dry (or both!) climate, aeration is particularly important to your lawn because it makes it harder, able to withstand long seasons under harsh conditions, like drought.
Why do you need lawn aeration?
Over time your lawn naturally gets compressed by the elements, such as rain. And then, by using your lawn regularly for playing, entertaining, or as a place for pets to romp, it becomes even more compressed. Aeration reverses the ill effects of compression, allowing the roots of your grass to breathe and grow.
When is the best time to have your lawn aerated?
You can really aerate your lawn anytime, so long as your grass is growing in season. Winter isn't an optimal time to use a lawn aerating if you live in an area that freezes. Most people choose to aerate their lawn twice each year, fall and spring, to help grass recover and prepare for the summer and winter seasons. Although you can rent a lawn aerating to do the process for yourself, be warned that it is time consuming and arduous work! Consider hiring a professional to come do the work for you. All you must do is sit back and enjoy a beautifully maintained (and healthy) lawn!
Looking for more tips and tricks?
Check out the Redfin article Spring Yard Prep: Experts Weigh in on Getting Your Yard Summer-Ready