As one of the most trusted and reputable lawn mowing services in the area, and whether you are a homeowner or business owner, we have a comprehensive suite of solutions to fit your needs and ensure that your lawn is well-taken care of.
Browse our selection of services to learn more about what we can offer your home or business.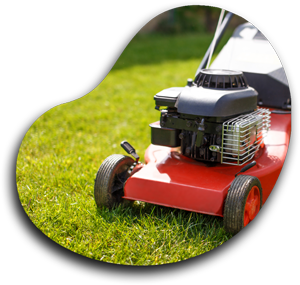 Flexible Lawn Mowing Schedule
We know that scheduling lawn mowing services are not always something you want to spend a lot of time on, so we craft an easy-to-understand schedule and set realistic expectations for our lawn mowing visits.
In addition to our flexibility, we have also developed a sliding schedule that mows your lawn at varying intensities as your needs change throughout the year. To accommodate growing patterns and speed, we start bi-weekly mowing services in March, switching to weekly services in April through October, and back to bi-weekly from October to November and December thru February as needed. This allows us to cut your lawn at the right frequency and keep it looking great.
In our innovative mowing schedule, we do offer a mowing service in the winter months from December to February only by request.
Practice Better Lawn Care by Keeping Your Clippings
Unless your lawn is diseased, it always pays to keep your own lawn clippings. Grass clippings are mostly water, they're also packed full of natural nitrogen.
Clippings an inch or less in length will decompose quickly. In the process, they will naturally re-fertilize your lawn. In summer, this helps grass appear naturally more verdant. On request, though, we can also remove clippings after mowing for a small extra charge.
Unleash Your Lawn
Are you looking to add extra curb appeal to your property? Alternatively, do you want to be free from the hassle of having to mow your lawn? If so, we can help. Our lawn mowing services are suitable for both residential and commercial properties in Dallas and Fort Worth. 
Start enjoying your lawn without the hassle of regular mowing. To get a free quote, call (469) 772-0101 now to speak to one of our lawn care experts
Weekly or Bi-Weekly Service?
In Texas, lawn maintenance is vital to keeping a well-maintained home or business. Grass can grow fast and if you aren't careful, it can get out of the control. So how often do you really need to cut your grass? Find out
Spring Lawn Scalping
Scalping happens when you mow the lawn on your property low on purpose to encourage new growth. Typically, LawnExpert provides scalping in early spring. In doing so, we encourage dormant grass to start growing with renewed vigor and vitality as soon as the summer sun hits.
Scalping Pricing
Scalping a lawn takes more time than regular mowing. For this reason, prices for scalping (including bagging of clippings) is usually 3 x our regular mowing fee.
Full Service Maintenance
With our Comprehensive Yard Maintenance Service your lawn and landscape will be taken care of all year, so you won't have to worry about how or when start the mowing season or raking leaves in the winter! You can pick and choose which services you want!
Your yard will look great all year long! Plus you'll lock in a low 12 Monthly rate to give you a price that fits into your budget.
Landscapers, homeowners, and farmers often plant ryegrass in Texas during colder months to help safeguard Bermuda and St. Augustine grasses. The overall beauty of overseeding with ryegrass is to protect Texas lawns through chilling temperatures. However, it also has other amazing benefits when it comes to keeping your turf green and lush in the winter.
This process is known as overseeding, and it is done to retain greenery in lawns during the cold season. The idea is to keep the turf green and aesthetically pleasing until the weather becomes suitable again for spring and summer Texas grasses to resume flourishing. Below, we share some important information about planting annual ryegrass and how your lawn can benefit.
The Ideal Time to Plant Ryegrass
It's better to wait until the summer grasses have become dormant so that the annual ryegrass won't compete with them for sunlight and nutrients. As a rule of thumb, you should overseed annual ryegrass at least thirty days before the first frost, when the nighttime lows are above 50°F and daytime highs are near 70°F. This translates to the months of October and early November for most of Texas.
They did a great job mowing and taking care of my yard.

Joann Limes

3/19/2019

Great Service and Great Rates. Have used them regularly and on short notice with no problems. Will be continuing to use LawnExpert. Thank You!

Joshua Smith

5/18/2018

I can't begin to say enough about the service Israel and the Lawn Expert Team provided me! Israel was very helpful throughout the entire process from planning to scheduling to installation. They redid all of my flower beds, installed crushed granite walkways, and installed new sod. The Team was professional and did a top notch job! I highly recommend them for any project you have coming up. They will be my first and only call the next time we need anything done!

Lloyd Rowland

6/26/2019

Lawn Experts do a wonderful job! They are diligent, timely and clean up after trimming. I highly recommend.

Cindy Gebbie

9/24/2019

They mow regularly however they are 3 stars for me as they don't do the flowerbed maintenance that is a part of our service unless I email and specifically request that they do so.

Sean Hicks

8/14/2019

They did great job, on time and good communication. Thank you the whole team

Luke Groines

3/19/2019

Great company, very reliable. I strong suggest them to anyone.

AHOD Construction Services

10/31/2019

Israel @ LawnExpert was hired to rid my front flower beds of a very invasive ground cover. They pulled the obvious foliage up, then put a weed eradicator and then covered the entire beds with 3 inches of mulch. I look forward to Spring and having no weeds in my flower beds and we can work on the beautification of the project.

Wilda M McC

11/22/2019

Very reliable, with a great customer service for very affordable price. We've been using them for 2 years and never had a problem.

Ismael Vieira

11/21/2019
Free Quote
Within 24 Hours
Still not sure? Have questions? 
Just contact us, we'll be happy to answer any question!