With our Yard Maintenance Service your yard will be taken care of all year, so you won't have to worry about how or when start the mowing season or raking leaves in the winter! Your yard will look great all year long! Plus you'll lock in a low 12 Monthly rate to give you a price that fits into your budget.
Our packages prices are based on the lot square footage but you can get an instant quote and even book our services online. Just enter your address below, its fast and easy!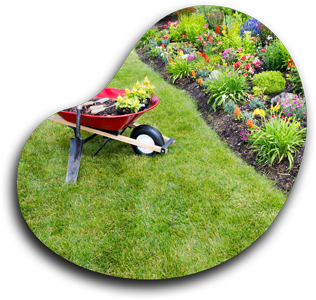 Full Service Program – Yearly Maintenance
All-Inclusive Packages
Weekly Mowing – March thru October
Winter Yard Maintenance/Cleanup – December thru February
Bush Trimming (4 times per year)
Fertilizing and Weed Control (6 annual applications)
Bed Maintenance each visit

Mulch Installation – Once a year

Leaf Removal
Optional Services (Local estimate required)
Crape Myrtle Trimming
Core Aeration
Service Details:
Our Full-Service Yard Care Annual Program is pro-rated in 12 monthly payments. If service is canceled prior to a full 12 months of service rendered, the regular prices will apply for each service and will be used to calculate the final bill. 
* a Credit Card on file is required for Full-Service Yard Care Program
Full Service Yard Care Schedule
Service
Jan
Feb
Mar
Apr
May
Jun
Jul
Aug
Sep
Oct
Nov
Dec
Total/Year
Weekly Lawn Mowing
*
*
*
*
*
*
*
*
*
*
*
*
38
Winter Care /
Leaf Removal
1
2
1
4
Bush Trimming
1
1
1
3
Flower Bed Weeding
1
1
1
1
1
1
1
1
1
1
1
1
12
Mulch
1
1
2
Core Aeration
1
1
Weed & Feed
1
1
1
1
1
1
6
Crape Myrtle Trim
1
1
Expert Lawn service did a great job. To schedule the job was not difficult at all. They showed up on time ready to work and completed the job in a timely manner.

Kevin Vital

7/02/2018

They mow regularly however they are 3 stars for me as they don't do the flowerbed maintenance that is a part of our service unless I email and specifically request that they do so.

Sean Hicks

8/14/2019

Great company, very reliable. I strong suggest them to anyone.

AHOD Construction Services

10/31/2019

They are excellent, just moved to Frisco and they are fairly priced and did a superior job. I would highly recommend LawnExpert.

Joshua Smith

3/21/2019

Very reliable, with a great customer service for very affordable price. We've been using them for 2 years and never had a problem.

Ismael Vieira

11/21/2019

Fair prices and caring about your lawn

Sam Sameri

5/03/2019

They did a great job mowing and taking care of my yard.

Joann Limes

3/19/2019

They did great job, on time and good communication. Thank you the whole team

Luke Groines

3/19/2019

I can't begin to say enough about the service Israel and the Lawn Expert Team provided me! Israel was very helpful throughout the entire process from planning to scheduling to installation. They redid all of my flower beds, installed crushed granite walkways, and installed new sod. The Team was professional and did a top notch job! I highly recommend them for any project you have coming up. They will be my first and only call the next time we need anything done!

Lloyd Rowland

6/26/2019
Free Quote
Within 24 Hours
Still not sure? Have questions? 
Just contact us, we'll be happy to answer any question!